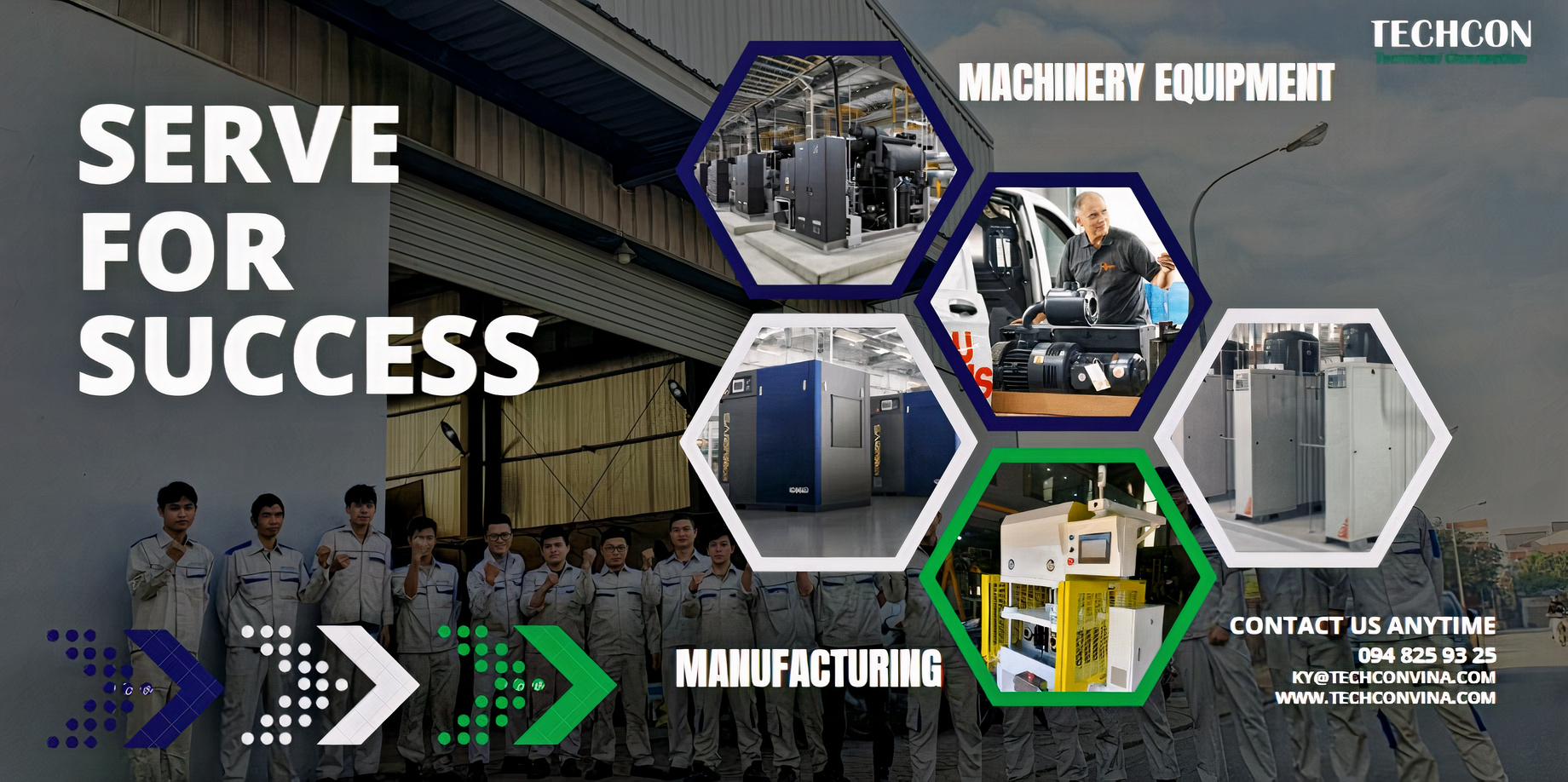 TECHCON VIETNAM JOINT STOCK COMPANY
Techcon Vietnam operates in the following fields: Mechanical design/manufacturing, automation; total solution for industrial air compressor system; supply of specialized industrial machines such as nitrogen generators, oxygen generators, and high-pressure air compressors; supply of electrical automation materials and construction of industrial electromechanical works.
From the business philosophy: "Serving for success", Techcon always upholds the sense of responsibility and prestige to bring the highest benefits to customers.
With a team of long-term experience in the fields of mechanics, automation, air compressors, electromechanical, etc. Techcon is proud to be a partner of leading, multinational and multi-field enterprises. We are confident and take the task of serving customers as a guideline to build the system and develop.
All parts are the convergence of long-term design engineers, professional machining teams, comprehensive knowledge consultants, and reputable suppliers. That is the foundation for us to complete the most demanding tasks as well as bring the greatest benefits to our customers.
With the motto of customer service as the foundation for success, Techcon always strives to bring the best service for every job. Not only for our customers' production to be operated stably and safely, but we also constantly offer technological improvements to always accompany our customers' highest production efficiency!
As a representative of young businesses in the industrial revolution 4.0, Techcon is constantly improving technology, applying advanced techniques in product design, manufacturing, and acceptance.
MECHANICAL
- Design and manufacture mechanical systems in industrial production
- Design and install industrial automation and control systems
- Trading in machinery and spare parts for industry.
Customers will receive dedicated advice on technical options to help maximize investment and operating costs, and a dedicated and professional after-sales care policy.
INDUSTRIAL MACHINES
Techcon is a distributor of specialized industrial machine products from Germany, Japan, the UK, Belgium, etc with the following solutions:
- Types of nitrogen generators with technology: PSA, Membrane - Types of oxygen generators - High-pressure air compressor for industry and breathing air.
- We bring comprehensive solutions from design consulting, equipment selection, construction and installation, operation, maintenance, and overall system maintenance.
COMPRESSOR
With long-term experience in the field of air compressors, Techcon offers customers total solutions:
- Consulting on selection, installation, operation, and improvement of power-saving performance.
- Supply all equipment in the system (air compressor, air dryer, air filter, accumulator, etc.)
- Maintain and maintain the overall system.
- Design, construction, and installation of the overall system

VACUUM PUMPS
Techcon is the authorized distributor of Busch vacuum pump products from Germany. Moreover, Techcon provides a total solution for vacuum pumping systems including vacuum pumps, air blowers, air compressors, boosters, and maintenance spare parts imported from Busch.
We offer a total solution package that includes our customers' design, integration, construction, implementation, testing, and maintenance.
TYPICAL PROJECTS
Techconvina has implemented many large projects with domestic and foreign partners