Description
The smallest hydrogen generator for GC-FID, Precision Hydrogen SL is the perfect hydrogen on demand solution for your laboratory. Developed to offer a streamlined laboratory-grade hydrogen gas solution for GC flame detectors at a purity of 99.9995%. Precision hydrogen SL is safe, simple to use, easy to maintain and takes up minimal bench space.
With an impressive, streamlined form factor, Precision Hydrogen SL produces hydrogen at up to 200cc/min with no compromise on safety. A range of features ensure that Precision SL will produce hydrogen safely, storing a minimal volume of gas compared to cylinders.
This generator also comes in a choice of black or white and includes a 2 year warranty as standard.
Features
2 models – 100cc and 200cc
99.9995% purity @ 100 psi
One-button start-up and shutdown
Easy end-user managed servicing
Optional auto-water fill or pressurized water fill
Auto-shutdown fail-safe feature
CE, FCC and CSA compliant
2 year comprehensive warranty
Available in black or white
---
Gas
Gas Type: Hydrogen
Max Gas Flow: 200cc/min
Hydrocarbon Content: Hydrocarbon free
Max Output Pressure: 100psi/6.9bar
Max Purity: 99.9995%
---
Site & Installation
Gas Outlets Fitting: 1 x 1/8" Swagelok compression fitting
Water Purity Requirements: ASTM Type II (<1 µS/cm / >1 MΩ-cm)
Water Consumption: Up to 0.24 L/day
Start Up Time: 6 minutes
Power Consumption: 1.2A @ 240V, 220W
Voltage: 100-240V ±10%
Frequency: 50/60 Hz
Current: 6 Amps
Heat output: 983 BTU/hr
Max Operating Temp: 35°C / 95°F
Noise Level: <55 (dB)
Accreditations: CE, FCC, CSA
---
Dimensions & weight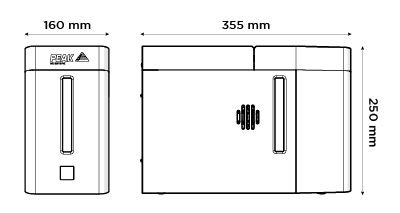 Size (HxWxD) mm:
 250 x 160 x 355 mm
Size (HxWxD) Inches: 9.8 x 6.3 x 14 inches
Generator Weight: 8kg / 17.6lbs
---
Service Requirements
De-ionizer cartridge replacement every 12 months
Replacement of desiccant capsule when indicating silica gel darkens